On the following pages are horses bred and/or sold by Belesemo Arabian Ranch that have gone on to new owners. We are very proud of these horses and extremely grateful to their owners for giving them the incredible opportunities to fulfill their destinies.
Our horses have been ridden and shown by outstanding individuals. They have taken them to many prestigious titles which include the following:
AERC National Champion Endurance Stallion — Jim Jones Award
AERC National Pioneer Award Winners
AERC National Mileage Award Winner
AERC National Husband/Wife Team Award Champions
AERC National Best Condition Champion
AHA 100 & 50 Mile Ride Champions
Wendell Robie Award Winner
Tevis Top Ten
Legion of Honor winners
Legion of Merit winners
Multiple AERC Regional Mileage Awards
Multiple AERC Regional Best Condition Awards
Multiple AERC Regional Points Award Winners
U.S. National Champion Top Ten Sport Horse Halter Stallions
U.S. National Champion Top Ten Dressage Champions
U.S. National Champion Sport Horse Jackpot Champions
Scottsdale Champion Sport Horses
Multiple Regional Class A and Open show wins
22 Champion /Reserve Idaho Arabian Breeder Futurity Titles
IAHA Fort Robinson Trail Ride - Adult Games Winner
If you have a Belesemo bred horse that has done well in the ring or out on the trail, please contact us so we can feature you here in our Achievement Hall of Fame. Thank you to all the great individuals who have believed in our horses and taken them to the top.


"You are the wind beneath our wings"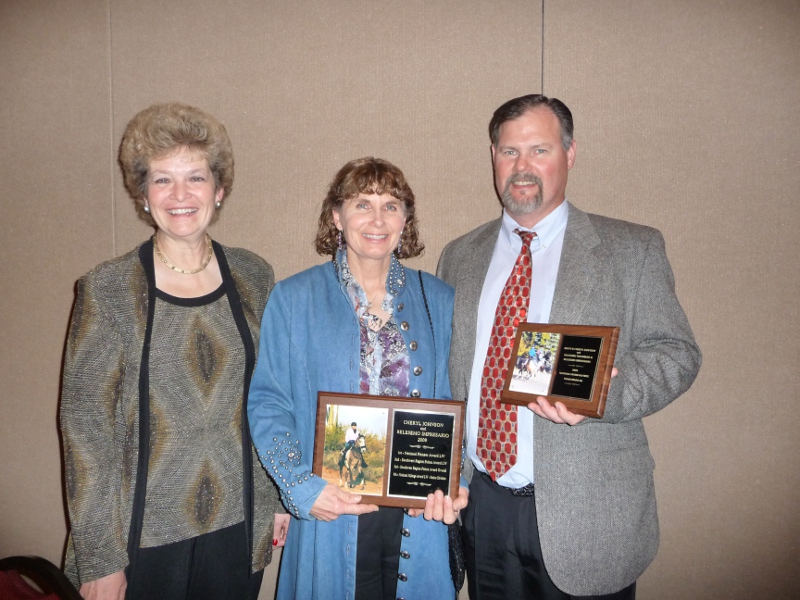 At the 2010 AERC Convention in Reno, we were thrilled to present the 2009 AERC Pioneer Lightweight Award to Cheryl Johnson, owner/rider of BELESEMO IMPRESARIO.
Also, congratulations went to Cheryl & Brent for placing 7th in the National AERC Husband/Wife Team Award with BELESEMO IMPRESARIO and BELESEMO TRADMARK.
Please click on a link below to see Belesemo Horses and their owners in...