Check out our new Belesemo Arabian Ranch Facebook page. [Click Here]
Check out Merri Melde's news historical article Part I on Belesemo Arabians at Endurance.net [Click Here].
Part II of Merri's article is now available. [Click Here]

Wow! 2016 has been a time for many changes at Belesemo Arabians. Kim suffered a badly broken leg that has put us behind on so many fronts. We are just now starting gather our 2016 current events and there are some exciting ones. We are currently compiling ride and show results for this year. Please send us your photos/results and check back often.
---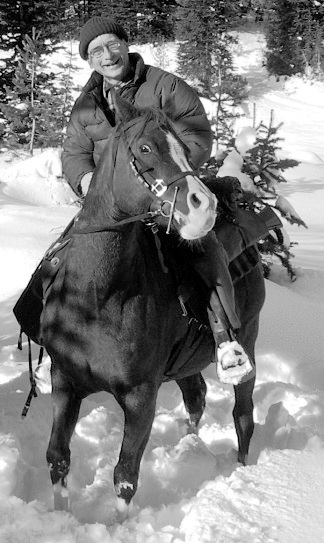 Belesemo Wizard
(Belesemo Magic x Latricia by Las Trad)
1989 - 2017
We received this lengthy tribute from long time client Will Schmidt earlier this year and debated about putting it on facebook. However, it is a great tribute to the companion relationship we have with these wonderful creatures and thought it might be educational as well. Thanks Will. Wizard and Ari had and have a great home with you. Our condolences. [Read full story]
---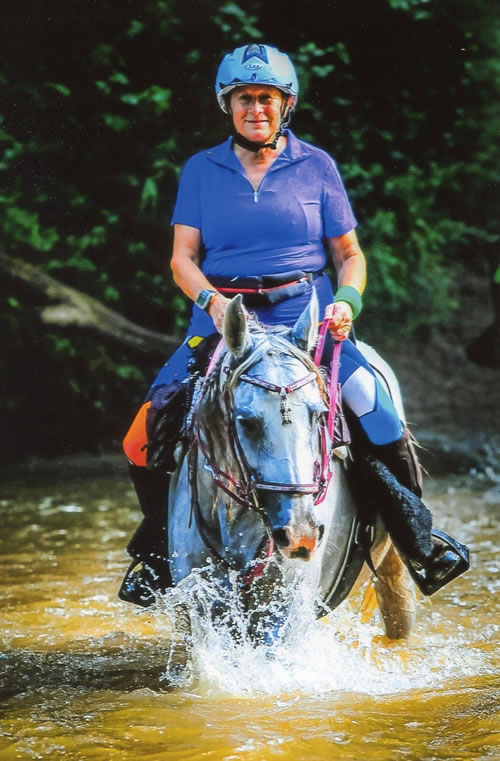 Region XII AHA Champion
Pure Bred Competitive Trail
Recent news from Maris Ramsay in the Southeast Region has her Belesemo Trad granddaughter A Fair Chance (Belesemo Chance x Bella Magnolya), bred by James/ Gini Agnew, winning the 2016 Region XII AHA Champion Pure Bred Competitive Trail on December 18, 2016. Congratulations to both of you on such a great achievement. The Belesemo Trad grandget are proving themselves as the next generation of superior trail horses.
---
2016 SWIT / DR Standings
The 2016 standings for the Southwest Idaho Trail and Distance Riders results were recently published and many Belesemo bred or marketed horses appeared on the list. Congratulations to all of the horses and riders on an outstanding year.
Senior Top Ten Horse and Rider Teams
4th - Belesemo Moon & Lynn White
9th - Belesemo Dude & Merri Melde
50 Mile Ride Standings
5th - Belesemo Moon & Lynn White
10th - Belesemo Dude & Merri Melde
12th - Belesema Anna & Chris Samson
15th - HHR Jammazon & Tamara Baysinger
27th - HHR Levis Sualowa & Tamara Baysinger
37th - Belesema Esperanza & Naomi Tyler
LD Horse and Rider Mileage
3rd - Belesemo Geronimo & Maria Kilgo
6th - Belesema Specialty & Carrie Johnson
13th - Tuxedos Ghost & Vicci Archer
Senior Top Five LD Horse
3rd - Belesemo Geronimo & Maria Kilgo
500+ Mile Award
Belesemo Geronimo & Maria Kilgo
Best Condition 50 Mile Division
HHR Jammazon & Tamara Baysinger
---
2016 AERC National Championship Ride
Held at Antelope Island, Utah, the 2016 National Champion 50 and 100 mile rides included some great Belesemo line horses and their riders. Congratulations on these fantastic accomplishments. Read all about Belesemo Dude's (aka Dudley) National Championship ride experience on Merri Melde's blog "The Equestrian Vagabond" blog WAY TO GO!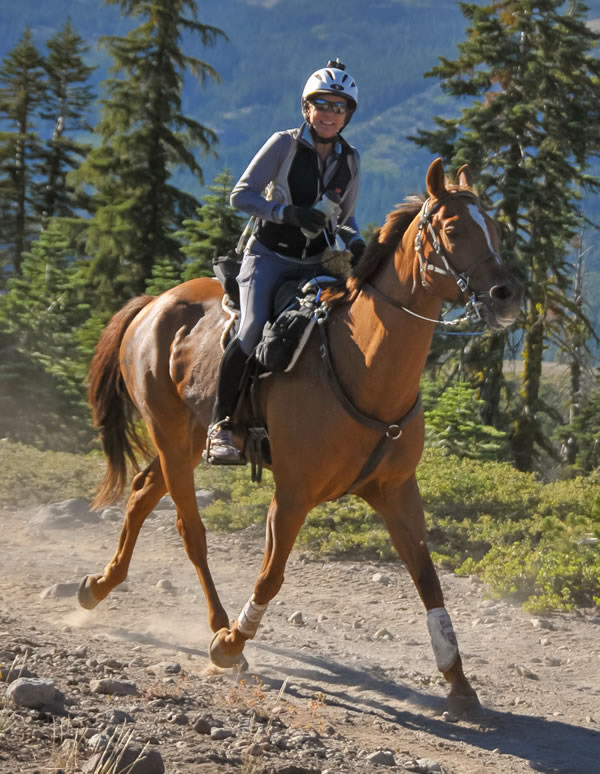 ©Gore/Baylor Photography 2016
100-mile Ride - 2nd Place!
1st - Featherweight Division
Baile Skrit Ablaze
(Sanskrit x Bailie On Ice – Appy)
Owned/Ridden by Pam Bailie
Bred by Pam/Doyle Bailie
4 Tevis Cups - 4 Completions
©Gore/Baylor Photography 2016
100-mile Ride - 10th Place!
1st -Heavyweight Division
Belesemo Impresario
(BA Fantizon x Belesema Grey by Belesemo Trad)
Owned by Brent/Cheryl Johnson
Ridden by Kevin Waters
2X AERC Pioneer Award Champion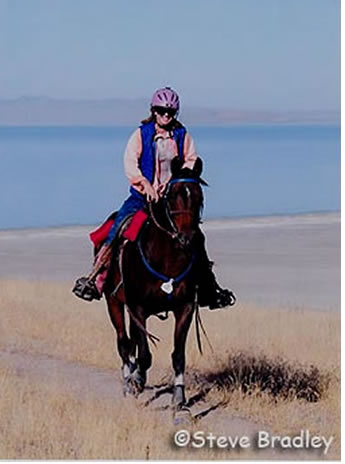 ©Steve Bradley
50-mile Ride - 16th Place!
Featherweight Division
Belesemo Dude
(Belesemo Image x Nature's Quicksilver)
Bred/Owned by Steph Teeter
Ridden by Merri Melde
870 AERC Miles to Date
---
2016 Sport Horse Nationals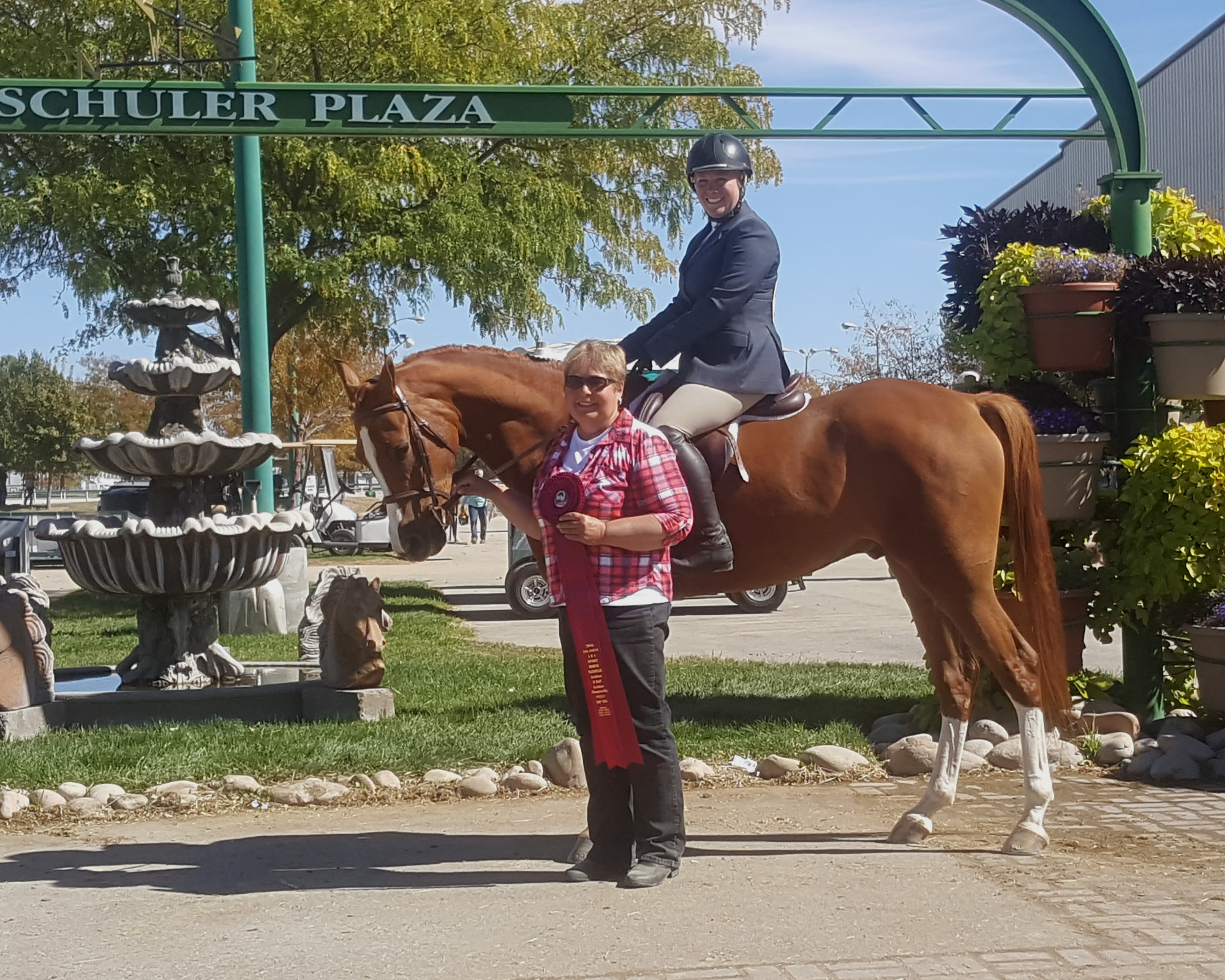 Congratulations to Julie Gelderman and her fantastic gelding Belesemo Iron Man (Belesemo Magic X Princess Tiniya). At the 2016 Sport Horse Nationals this fantastic gelding and Julie's daughter Amanda riding him were:

Reserve National Champion Hunter Hack Junior Horse
National Top Ten Sport Horse Under Saddle Junior Horse.
"Tony" just missed top ten sport horse geldings in hand by placing 11th. What a great showing for just turning four years old. Tony was previously:

2014 National Top Ten Sport Horse 2 Yr. Old Colts/Geldings
---
2016 Young Riders Team Challenge
Congratulations to Mary Howell, owner, and Sarah Buckley, rider, on Indian Dream Girl aka "Siena" (Belesemo Chance daughter / Belesemo Trad granddaughter) on their recent placings.
Canadian Championship FEI 75 mile - 2nd place overall
Young Riders Team Challenge - 2nd young rider & 3rd overall with a ride time of 6:53
They are pursuing a chance to ride in the Young Riders World Championship in Verona, Italy, in 2017. Go Mary, Siena, and Sarah. We are excitedly cheering you on.
---
2016 Tevis Cup
Congratulations to these fabulous owners, breeders, and riders of horses placing top 15 on the toughest endurance ride in the country, the Tevis Cup. These horses were sired by stallions in the Belesemo Arabians breeding program. We are so proud of all of you!
©Lynn Glazer, www.photo.lynnsite.com
6th Place!
Appollo LH
(Sanskrit x Twice A Princess)
Owned/Ridden by Jesse Caswell
To date: 5 - 1sts, 5 - 2nds, 7 BCs
©Gore/Baylor Photography 2016
12th Place!
Belesemo Impresario
(BA Fantizon x Belesema Grey
by Belesemo Trad)
Owned by Brent/Cheryl Johnson
Ridden by Kevin Waters
2X AERC Pioneer Award Champion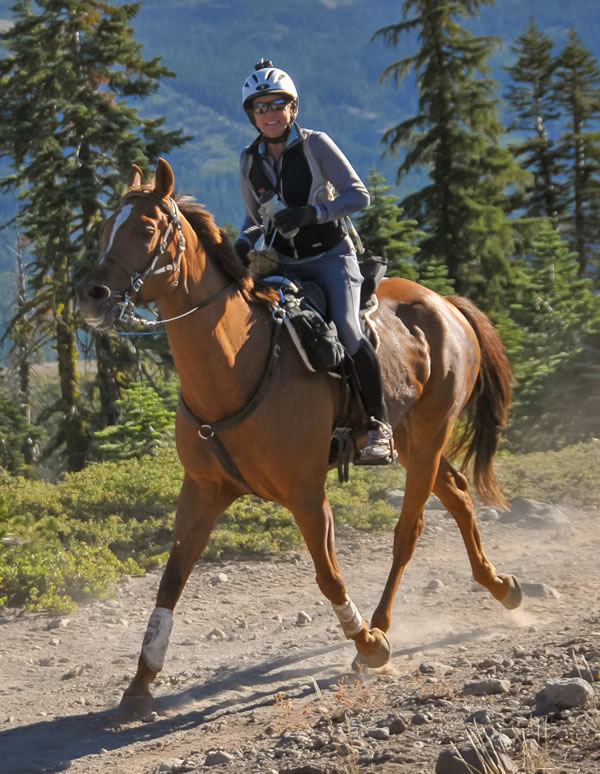 ©Gore/Baylor Photography 2016
14th Place!
Baile Skrit Ablaze
(Sanskrit x Bailie On Ice – Appy)
Owned/Ridden by Pam Bailie
4 Tevis Cups - 4 Completions
Three Starters – Three Top 15 Finishers Belesemo Arabians Congratulates these Tevis Cup Winners
---
2016 Ranch Visitors
Kim and her run around "broken leg buggy" with ranch visitors George and Terri Opolski, originally from Poland, now in Idaho. George shared some wonderful stories of his life in Poland and the Arabians he knew there while growing up. Our thanks to Terri who forwarded these photos taken during their visit.
We have had many other visitiors to the ranch this summer from as far away as South Africa, Canada, Florida, California, and other states. We appreciate all of you stopping in for a visit to see the horses, and some have found new companions to ship to their respective homes. Thank you for your confidence in our horses and breeding program. All of your visits are special.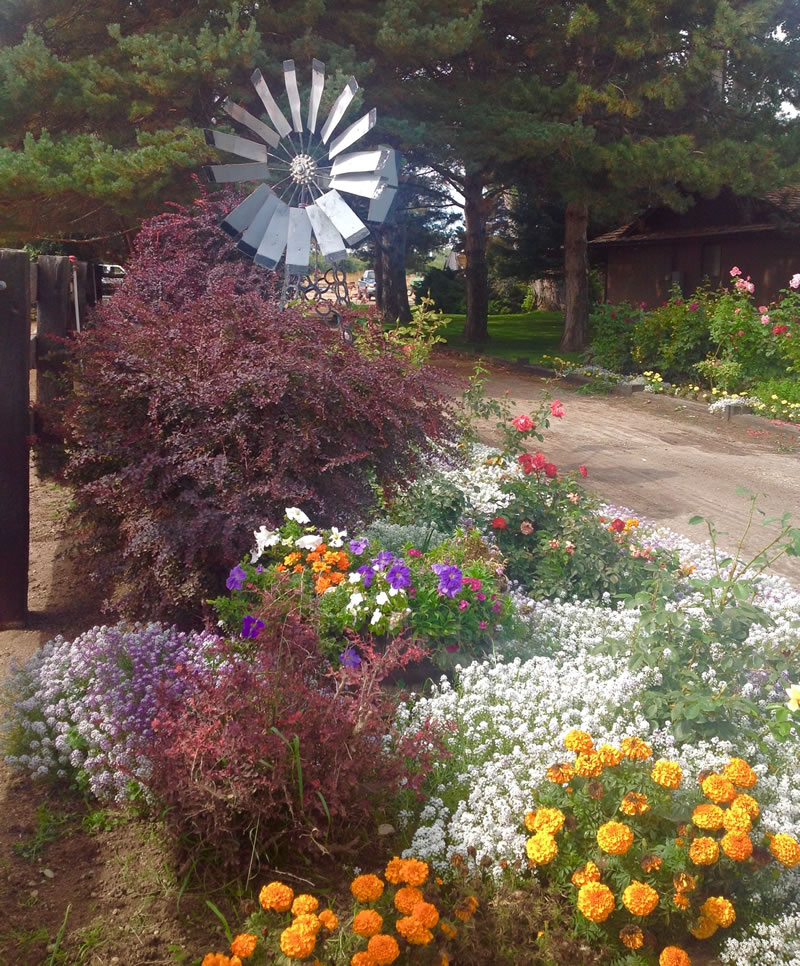 ---
Region IV Sport Horse Show
Magic Marker (Belesemo Magic x Belesema Mystica)
Recent News from the Treasure Valley Classic Horse Show and Region IV Sport Horse Championship have 3 year old Belesemo Magic Marker (Belesemo Magic x Belesema Mystica) claiming some impressive titles in his first show for owner Amanda Washington. Congratulations to both of them on a great show. We are looking forward to seeing them at the Sport Horse Nationals in September - Three Regional Top Fives and Two Reserve Champion Hunter Type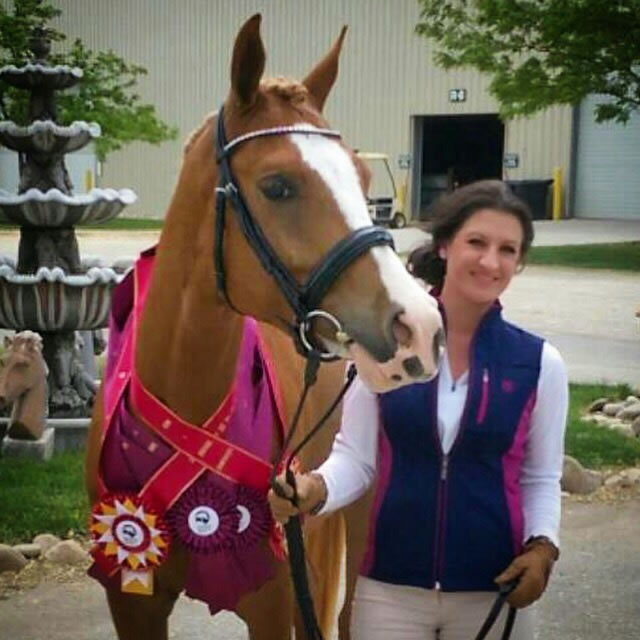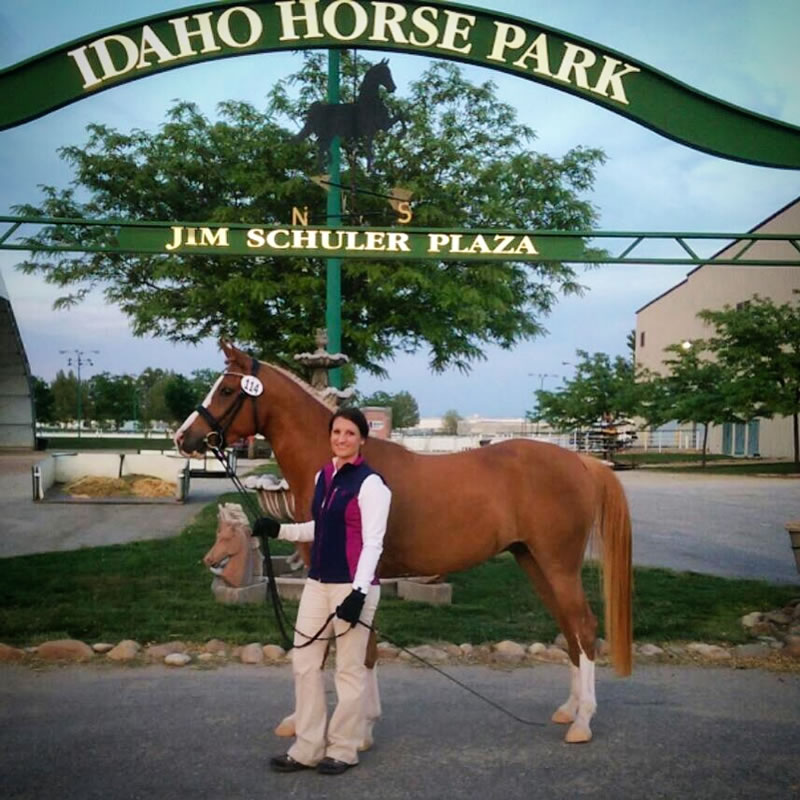 Region IV Placings
Reserve Champion SHIH Hunter Type
Reserve Champion SHIH Hunter Type ATH
Top Five SHIH Dressage Type
Treasure Valley Classic Placings
1st Hunter Type ATH
3rd Hunter Type Open
4th Dressage Type Open
6th Dressage Type ATH
---
Performizon
(BA Fantizon x Plantinum Edition)
Recent update from Hallie Torres regarding Performizon, sired by BA Fantizon by RD Arizon, bred by Hallie and now owned and ridden by Sarena Pearse, has them currently in the AERC Top 10 in West Regional Pt. Standings. Currently logging 1,555 miles, they have completed some tough rides already this season and are headed for TEVIS this July. We wish them all the best in their quest for the coveted TEVIS buckle.
---
THE 2016 FOALS ARE HERE!!!
And they are an impressive bunch!
…
Black/Grey Filly
(Sanskrit x RCF Angelica)
…
Black Filly
(Belesemo Obsidian x PNA Lakhota Moon)
…
Chestnut Filly
(Sanskrit x Belesema Sacajawea)

…
Chestnut Filly
(Belesemo Image x Belesema Excella)
…
Black Filly
(Belesemo Obsidian x Midnite Lyric)
…
Chestnut Colt
(BR Gold Sovereign x Elija Sukari)

…
Bay Filly
(Sanskrit x Belesema Khandy Khiss)
…
Chestnut Colt
(Belesemo Ibn Trad x Mariah's Rizingsun)
…
Chestnut Colt
(Sanskrit x Belesema Velveteen)

and still waiting for (Sanskrit x Best Actress) -- stay tuned! - Flash!! Gorgeous Bay Filly just foaled.
ADDITIONAL BABIES BEING BORN AT BELESEMO ARABIAN RANCH.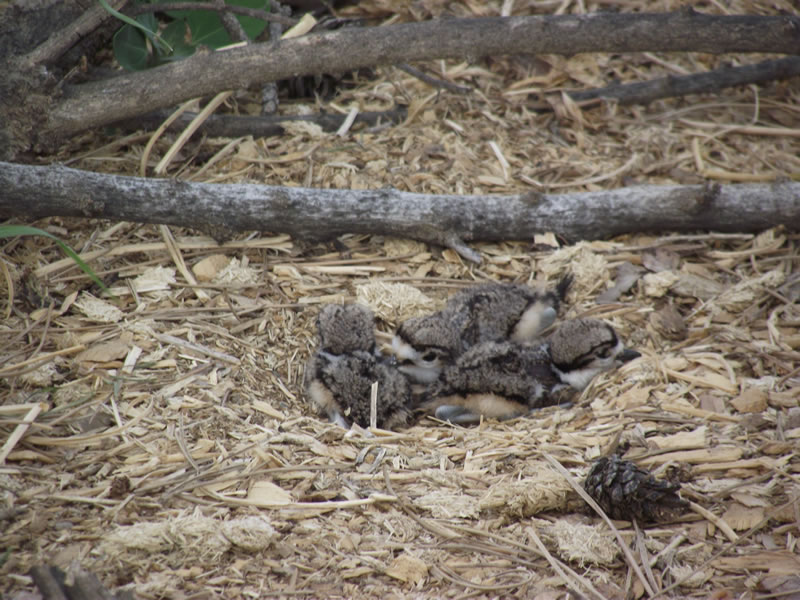 Not only are horse babies coming into existence but so are bird babies. Shown here is a nest of Killdeers that survived in the mare's dry lot all spring. We marked the nest with sticks so it wasn't stepped on and miracle of miracles here are the babies all hatched out before they jump out of the nest within two more hours and start running around. Their frantic mother is giving us the "fake broken wing" treatment as we were too close to the nest snapping photos.
---
Historical Articles
There have been new photos and articles on our historical page - "Then and Now". Click Here to view recent updates.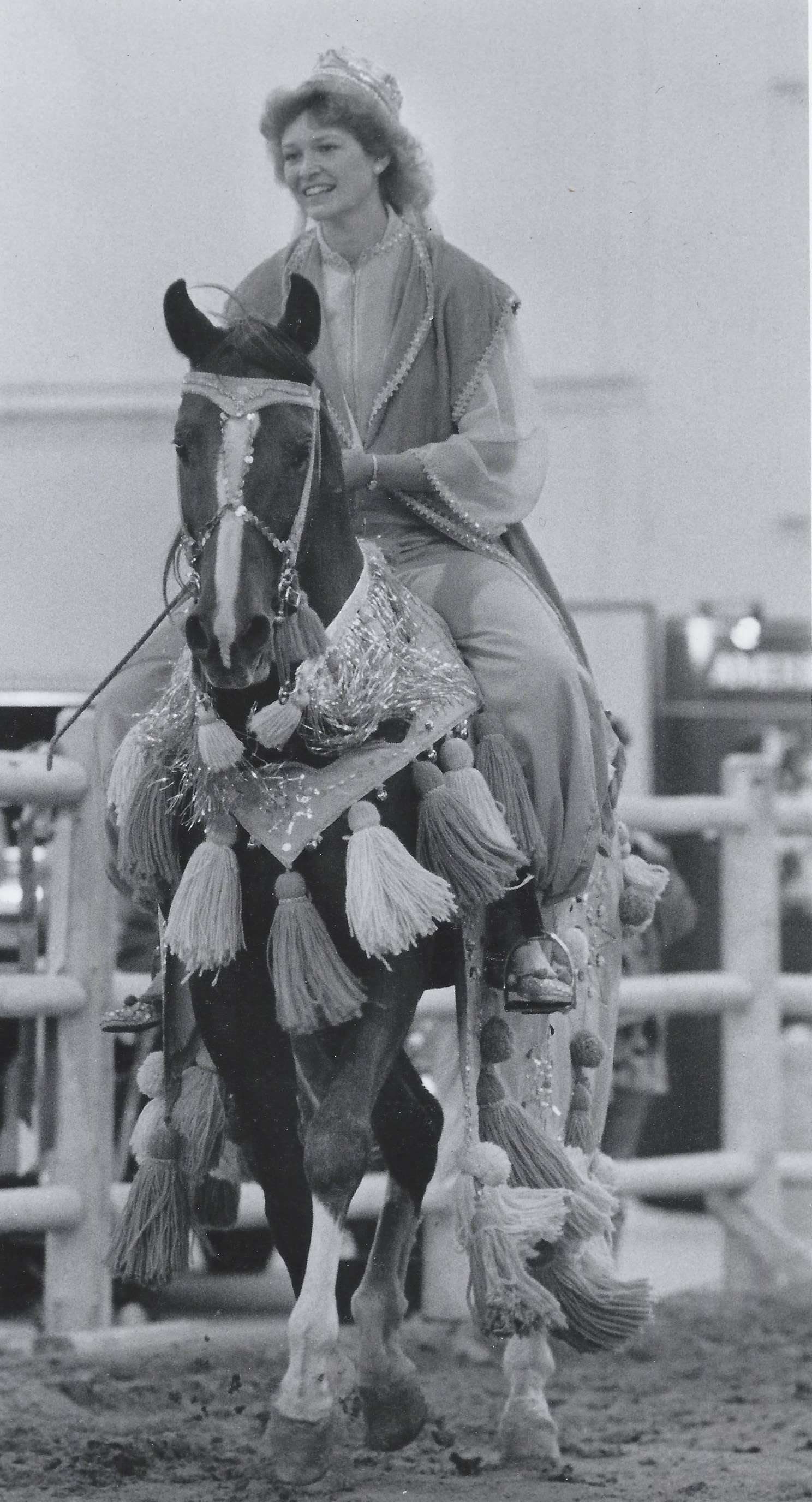 Belesemo Trad at the Idaho Horse Expo circa 1987
---
.
And Still 29 Years Later, Belesemo Arabians At
The 2016 Idaho Horse Expo
. . .
The 2016 Belesemo Image out of Belesema Excella filly, greeting the children at the April, 2016, Idaho Horse Expo. This filly is a double Belesemo Trad granddaughter,following in her grandsire's footsteps 29 years later, as a breed ambassador also. She is true history in the making.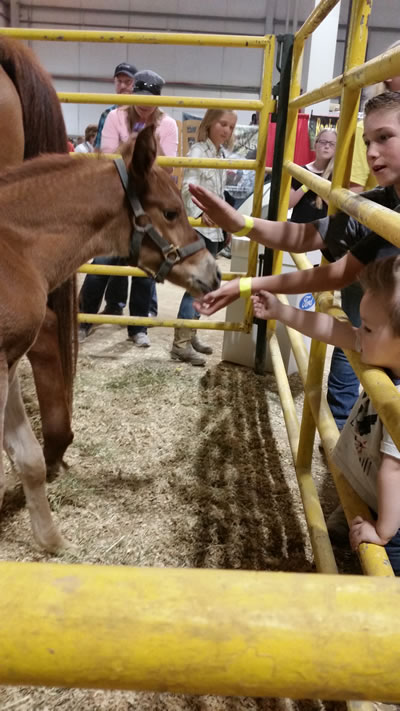 ---
Sheila Varian - Varian Arabians
Passing of Greatest Arabian Breeder
It is with deep regret that we join thousands of Sheila Varian's admirers in sorrow at her recent passing. Sheila represented the epitome of breeders for the arabian breed and we were so fortunate to have met her and visited with her at Scottsdale in times past.
We were also blessed to attend her annual Summer Jubilee at the Varian Ranch in California summer before last with good friends Hallie Torres and Gail Dellagatta. It was truly a special lifetime event as we were able to see the results of the 60 year old breeding program, walk the pastures with broodmares/foals, tour the wonderful Varian factility which is now owned by the California Rangeland Trust, and just visit with other like minded arabian breeders. It was a wonderful, never to be repeated experience where we met old and new friends alike. We will never forget it nor Sheila's dedication to the breed she loved so much. Indeed, we cannot think of anyone else that has had such an impact on the breed as a whole.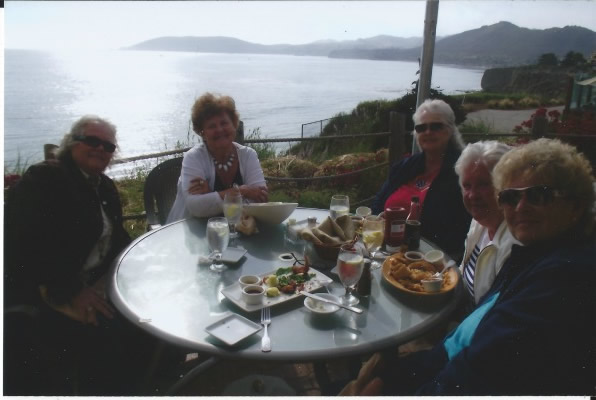 Photos shown here are reminisces at the Varian Ranch with Sheila on one of her horses giving a seminar and then all of us enjoying dinner overlooking the Pacific Ocean after a day at the Varian Ranch. It was a truly memorable experience.
We are blessed to have two Varian sired horses in our broodmare band, Starrquest Bey sired by Huckleberry Bey who has produced a wonderful Sanskrit daughter for us and PNA Lakhota Moon sired by Sundance Kid V who just produced a fantastic solid black filly this month sired by Belesemo Obsidian. Interestingly enough, we saw Starrquest's Bey's dam, Starrlite sired by *Bask, sell to Tom Chauncey Arabians in the Last Daughters of *Bask Sale in Scottsdale on our first trip in 1980. Now that brings back some memories 30 years later!
---
Belesemo Black Knight Photos
Congratulations to Angelyn Sherman, one of our ranch helpers, on having her photos selected for the 2016 BLM Wild Mustang calendar. Angie's beautiful way with a camera is shown here by her recent snaps of Belesemo Black Knight as a coming 2 year old.
---
The Most Important Event of 2015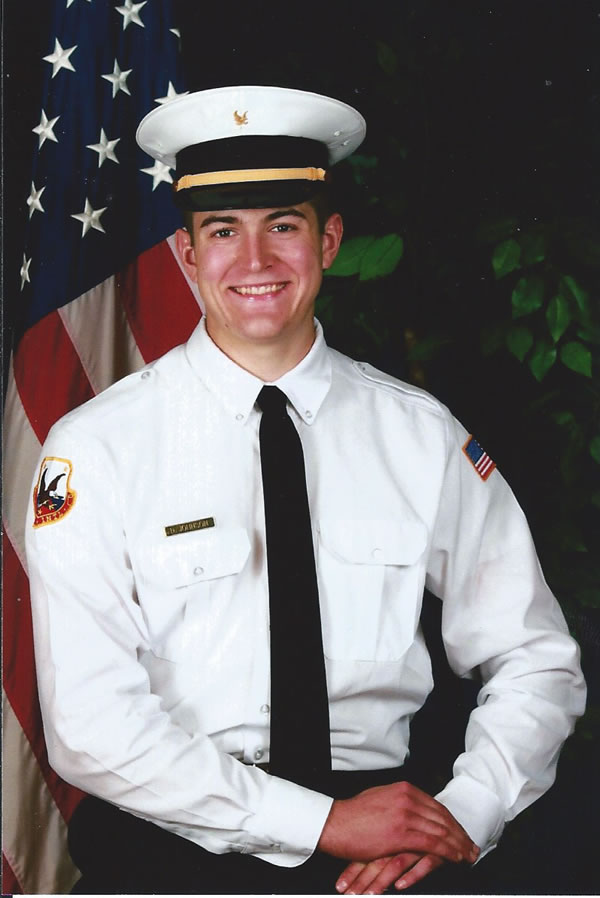 INTERNATIONAL ALERT ACADEMY GRADUATION
In family news, we are so proud of our son Drue who graduated in December from the International Alert Academy.  Drue diligently applied himself during Basic Training and came away with awards in Personal Achievement, Scripture Memory and Endurance Hike. 

We are extremely proud of this young man and everything he has done down through the 12 years of being home schooled, including paging in both the Idaho State Senate and House of Representatives, Governor of Capstone (Boys' State), 4.0 gpa, All Star State Football Game #1 Defensive End - 5A school, numerous piano, english handbell and essay contest wins. Standing 6'7" at 18 years of age, it takes a pretty good sized arabian to pack him around, but Belesema Musical and Crystal Rose have been his mounts for several years.
We are thoroughly excited at these milestones in Drue's life and are looking forward to what the Lord has planned for the next phase of Drue's life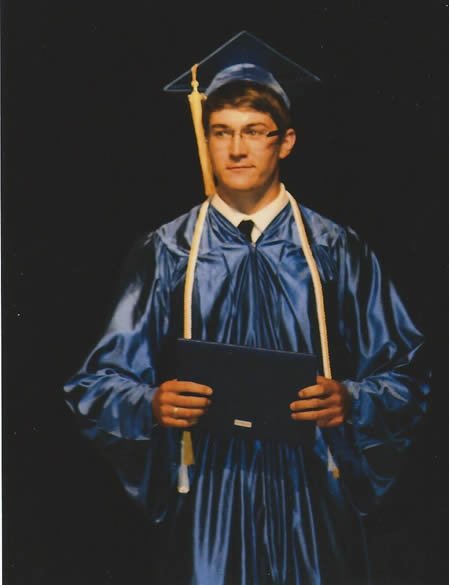 ---
2015 National and Regional Wins for Belesemo Line Horses
CONGRATULATIONS to all of the 2015 Belesemo Line offspring and their national champion Sport Horse and American Endurance Ride Placings. We are extremely proud of all these horses and their riders, especially the grandget that have been bred by other programs, proving the Belesemo line horses are continuing down through the third generation for useability. Please let us know if we have inadvertenty left anyone out.
BELESEMO RC MAGIC
(Belesemo Magic x Madafa)
RSNC (Ranch Sorting National Championship)
2015 National AHA Ranch Sorting Horse of the Year
RSNC California Rookie of the Year (All Breeds) 6th place
BELESEMO IMPRESARIO
( BA Fantizon x Belesema Blanca)
Ridden by Kevin Water - Owned by Brent/Cheryl Johnson
2015 AERC PIONEER AWARD HVYWT. CHAMPION
2015 AERC MTN  REGION HVYWT. CHAMPION - 2ND
CHANCE OF FREEDOM
(Belesemo Chance x Gaila Breeze)
Owned/Ridden by Lily Turaski – Bred by James/Gini Agnew
2015 AERC NATIONAL JUNIOR LD CHAMPION - 3RD
2015 AERC SE REGION JUNIOR LD MILEAGE – 1ST
BELESEMO GERONIMO
(Belesemo Obsidian x Allie Kazam)
Owned/Ridden by Maria Kilgo
2015 AERC NW REGION LD MILEAGE – 6TH
2015 SWIT/DR LD CHAMPIONS – 1st
GL JUSTIFIED Sired by Belesemo Epic +++/
Owned / Bred by Robin Ginn
2015 National Champion AA/ HA Sport Horse Mare
2015 U.S. Top Ten HA/AA Hunter Hack Junior Horse
2015 U.S. Top Ten HA/AA Hunter Hack Open
2015 U.S. Top Ten HA/AA Hunt Seat Equitation
LK SHOOT THE BREEZE
(LK Silver Magic x Gaila Breeze)
Owned/Ridden by Lyle Capps
2015 AERC SW REGION LD MILEAGE – 6TH
GAILA WHISPER
(Belesemo Chance x CD Gaily)
Bred by James/Gini Agnew
Ridden by Aubrey Williams
2015 AERC SE REGION JUNIOR LD MILEAGE – 2ND
CHANCEZ CZAR
(Belesemo Chance x Red Haven Alizaara)
Bred by James/Gini Agnew
Owned/Ridden by Kevin Pfoetsch
2015 AERC MW REGION MDLWT. PTS. - 4TH
HHR JAMMAZON
(HH Flashazon x Jafari HH)
Bred by Hexagon Horseshoe
Owned/Ridden by Tamara Baysinger
2015 AERC NW REGION FTHWT. PTS. - 4TH
---
2015 Ranch Sorting National Champion
2015 AHA Horse Of The Year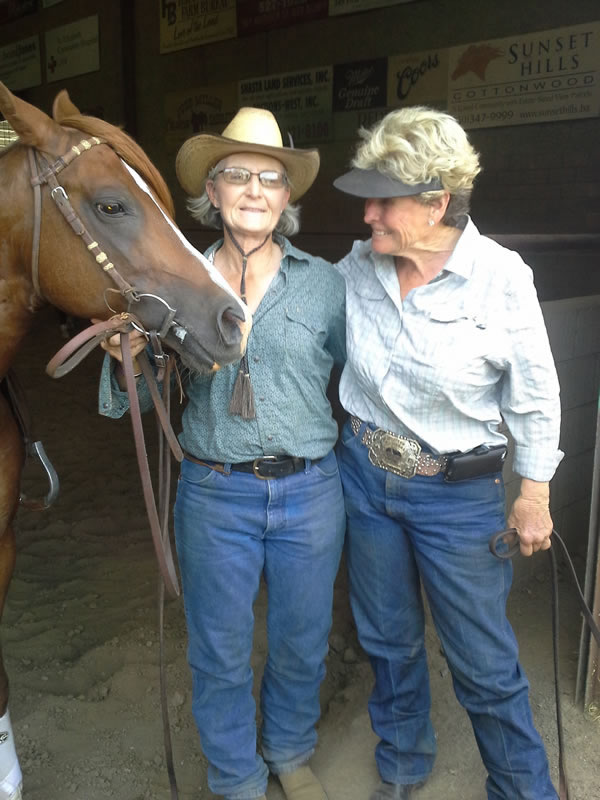 Congratulations to Carey Brock and Belesemo RC Magic (Little Big Man) for their unbelieveable accomplishment in the new sport of Ranch Sorting. In a field totally dominated by quarterhorses, not only did Carey and Magic place 6th in the Rookie Division in California for the year, they also took the title of RSNC National AHA Horse of the Year over all arabians. Quite a feat for a first year competitor, not to mention a young arabian stallion. We are so thrilled with how far the two of them have come in such a short time. They are the epitome of the "doing Belesemo horses" in a sport where arabians are a rarity.
Carey and Magic's rare accomplishment is featured in Working Western Arabian Magazine. [Click here]. And to watch them "cut their stuff" [Click here to watch video]
We are so proud of all
their accomplishments.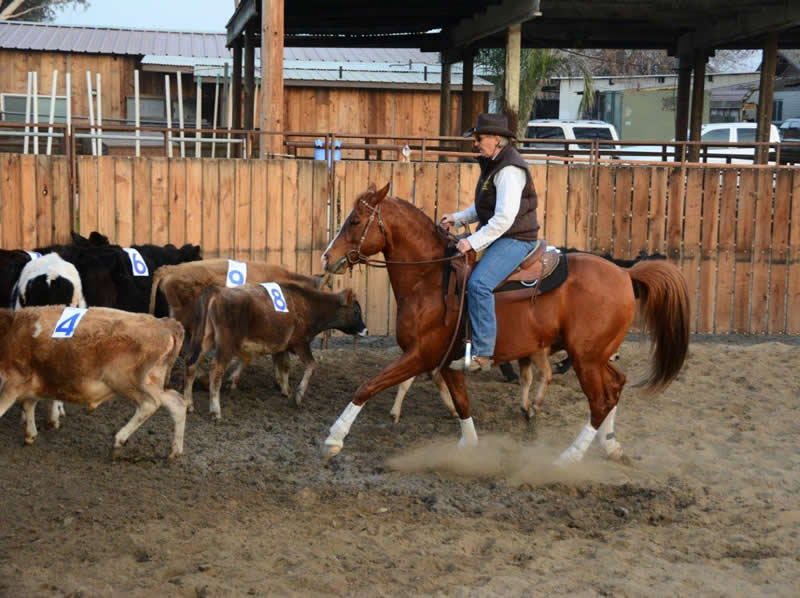 ---
2015 AERC Pioneer Award Pioneer Award HVYWT. Champion
2015 AERC MT Region HVYWT. Champion 2ND
and
AERC 60,000 Mile Mark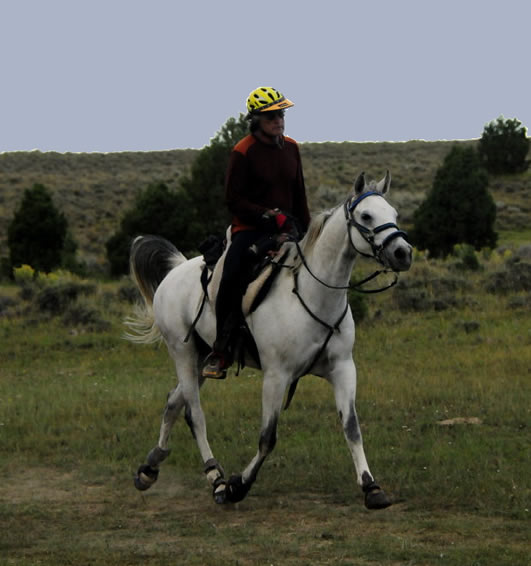 Kevin Water & Rio
Steve Bradley Photography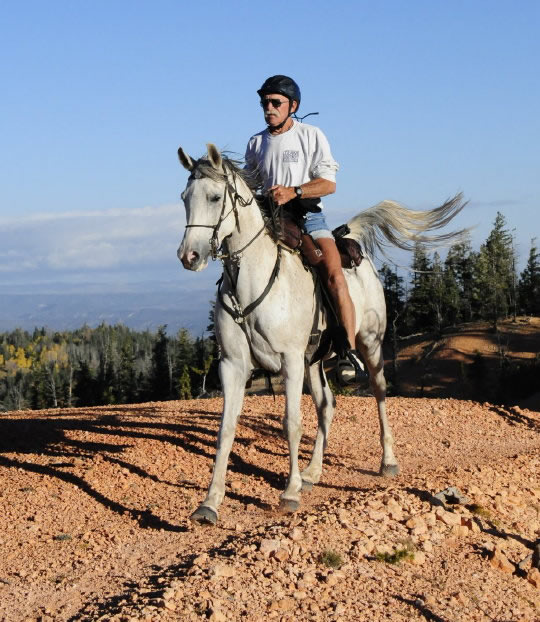 Dave Rabe & Rio
Steve Bradley Photography
Two fantastic milestones were recently reached by two men and one magnificent horse.
Kevin Water and BELESEMO IMPRESARIO aka "RIO" (BA Fantizon x Belesema Blanca by Belesemo Trad) won the AERC Pioneer Heavy Weight award in addition to placing second as the MTN Region HVYWT. Champion for 2015. This is RIO's second time as a Pioneer award winner.
Dave Rabe is the first rider to reach 60,000 AERC miles on a horse. When Dave rolled over that mileage he just happened to be on a borrowed Belesemo horse, "RIO", that carried him down the trail on that particular day at the Paunsaugunt XP Pioneer. Not only did Dave become the highest mileage rider ever in the history of endurance, but he and Rio took first place and Best Condition as well. What a phenomenal achievement – congratulations to Kevin and Dave, but especially to Rio for being allowed to have the honor. Belesemo Impresario is owned by Cheryl & Brent Johnson and leased to Kevin Water.
---
The next generation of Belesemo line horses are starting to assert themselves in the ring and on the trail. . .
2015 U.S. National HA/AA Champion Sport Horse Mare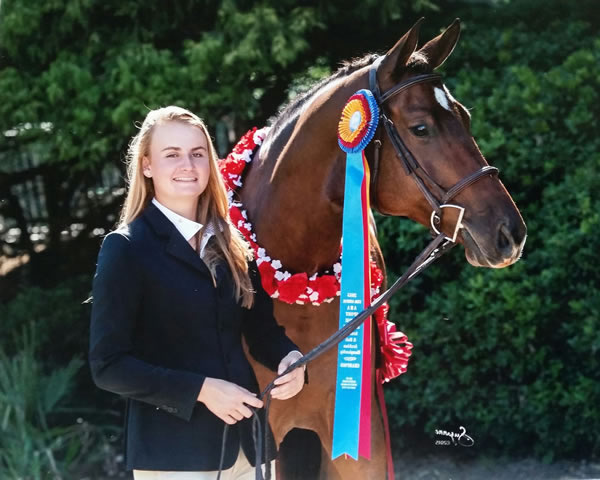 Suzanne Sturgill Photograghy
Exciting news just coming in this fall from U.S. Sport Horse Nationals held in Raleigh, North Carolina. CONGRATULATIONS to GF JUSTIFIED (Belesemo Epic+++/ x Not Tonight – American Warmblood Society Registered) on WINNING U.S. NATIONAL HA/AA CHAMPION SPORT HORSE MARES IN HAND.
Congratulations to her owner Robin Ginn from Royston, Georgia, and Mona Tobias the owner of her sire, Belesemo Epic+++/. Epic has numerous national sport horse titles as does his offspring and Justified is another of his national winning sport horse offspring, exhibiting her winning ways. Robin raises National winning sport horses at Ginn Farm Dressage and Sport Horses. [Click Here]
Don Stine Photography
In addition to National Champion Mare honors, Robin's 17 yr. old daughter, Catherine Ginn rode JUSTIFIED to three more national top 10 wins:

2015 U.S. Top Ten HA/AA Hunter Hack Junior Horse
2015 U.S. Top Ten HA/AA Hunter Hack Open
2015 U.S. Top Ten HA/AA Hunt Seat Equitation
As a yearling JUSTIFIED was also a U.S. Top Ten Yearling Sport Horse Fillies in Hand.
---
2015 AHA National Championship Ride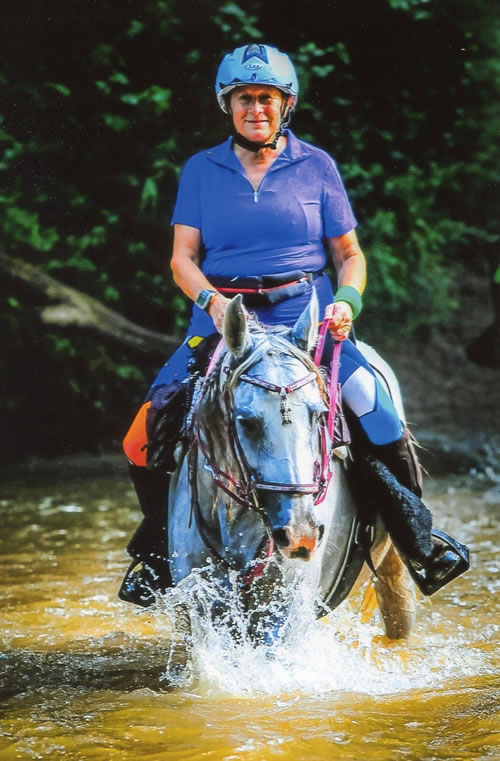 At the AHA National Ride held in Big South Fork, Tennessee, A FAIR CHANCE (Belesemo Chance by Belesemo Trad x Bella Magnolya) owned/ridden by Maris Ramsey & bred by James/Gini Agnew went:


2015 U.S. National Top Ten Purebred CTR 70 Mile Championship.


This great duo also received 3rd and BC this summer on the 50 mile GERA Fundraiser Ride. Congratulations to Maris and her wonderful mare. We expect to see even more great things from them in the future.
---
"Groove Ring" Commercial
This past fall Belesemo Arabians had a fun time being involved with a commercial filming for Silverline Films. They came out to the ranch and used some of our horses as props for their Groove Ring commercial. Watching the expression on Belesema Arizona's face as she plodded down the trail for the 49th take was pretty hilarious. She was not all that impressed with her chance at stardom, but we really enjoyed watching the process and being involved in the finished product. Our thanks to the Ness family for allowing us to be involved. For a chance to view the commercial and see the new "Groove Ring" click here.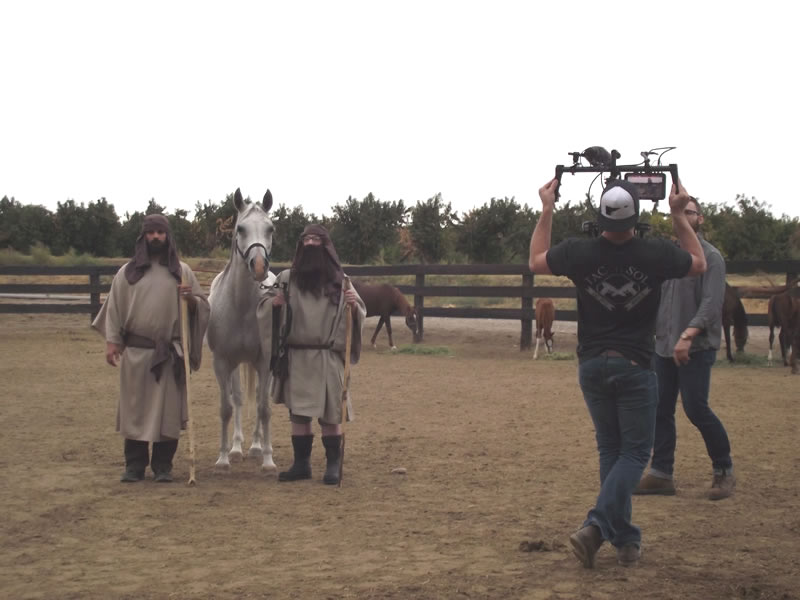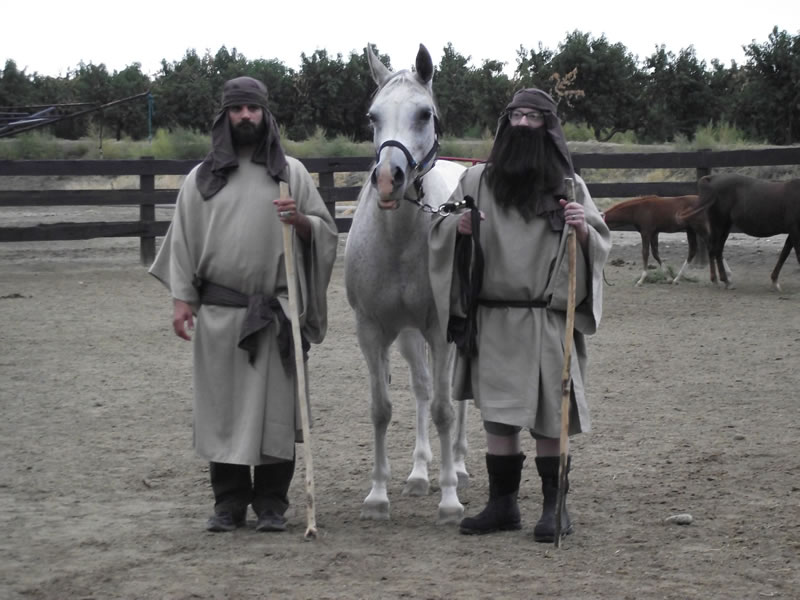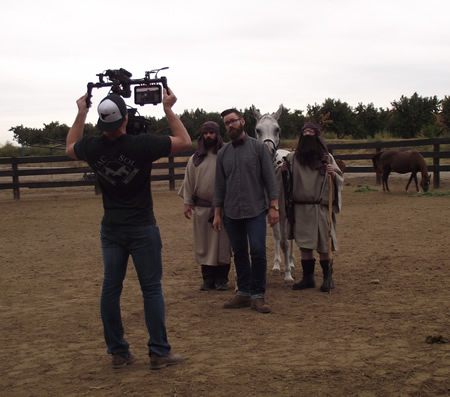 ---
AERC Endurance News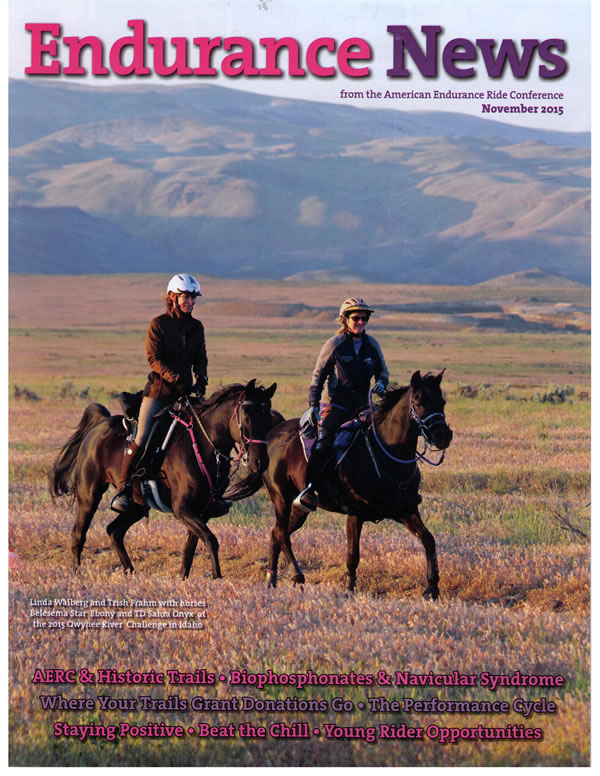 Steve Bradley Photography
CONGRATULATIONS to Linda Walberg riding Belesema Star Ebony (Belesemo Obsidian x Belesema Star Komet) shown on the left, for gracing the cover of the November issue of American Endurance News. This great pair has logged 510 miles to date and we look forward to them logging many more in the future. Ebony is the first 4th generation horse from the Belesemo Arabian breeding program and an important part of its future.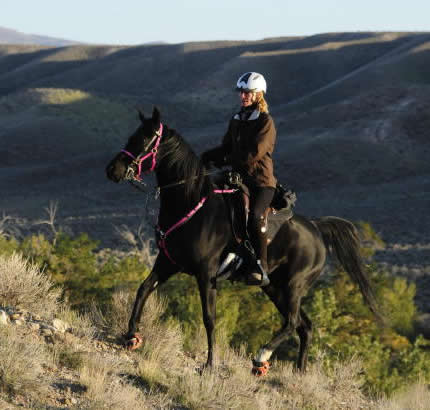 Steve Bradley Photography
Coincidentally, news from California includes Belesema Royale Ivory (by Belesemo Ibn Trad) and owner/rider Maureen Crerar competing in several rides this summer, their first summer out on the endurancetrail.  They are shown here completing the 50 mile course at the Camp Far West Rides.  Congratulations on a great start to your trail career.
Both Belesema Royale Ivory and Belesema Star Ebony are out of the 2007 foal crop at Belesemo Arabians and have quite a story to tell. Ivory's dam was lost in a tragic accident at her tender age of one month and Ebony's dam was a first time mother at age 25. Seeing Ivory's distress, Ebony's dam, Belesema Star Komet decided that she would adopt Ivory along with her own filly and gladly nursed her as well. With a grey foal on one side nursing and a black foal on the other side, Ebony and Ivory were so named for their future colors of black and white.
Now here they both are out on the endurance trail 8 years later and enjoying what they were bred to do.