2013 National Wins for Belesemo Line Horses

2013 National Highlights for Belesemo Line Horses

2013 AERC National Junior Mileage Champion
Belesemo Legacy & Lacey Bainbridge




2013 AERC National Jr. LD Champion
Chance of Freedom & Lily Turaski




2013 AERC National Pioneer Award Champion-Lwt.
Belesema Khandy Khiss and Carey Brock




2013 AERC National Championship 50 Mile Ride Completions

Belesema Finalia & Flora Goertsch
Belesema Anna & Chris Samson

3 Sanskrit offspring start and complete 2013 TEVIS


Congratulations to Carey Brock and Belesema Khandy Khiss on
earning the XP Gold Award - Follow their Journey
---
2013 AERC National Junior Mileage Champion

BELESEMO LEGACY - (Belesemo Trad x Brilliant Tawia)
Owner/Rider – Lacey Bainbridge

AERC National Junior Mileage Champion
1st – PS Region Jr. Mileage Champions
2nd – PS Region Jr. Pt. Standings
5th – Pioneer Award Jr. Division

This outstanding pair completed 1,005 miles in 2013 to claim the top junior award in the nation. The most amazing part of this championship is that Lacey turned 9 yrs. old in the middle of their quest this past year, while wearing a cast on her ankle Our thanks also to Heidi Helly who was her wonderful adult sponsor through all their rides.

2013 AERC National Junior LD Champion

CHANCE OF FREEDOM - (Belesemo Chance x Gaila Breeze)
Breeders - James/ Gini Agnew
Rider – Lily Turaskl

AERC National Jr. LD Champion
1st – SW Region Jr. LD Mileage

This wonderful gelding has a fantastic story beginning with his breeders James & Gini Agnew of South Carolina. They acquired his sire, Belesemo Chance (Belesemo Trad x Sunrise Feylene) as a baby from Belesemo Arabians, when they were willing to take a chance on him as a stallion prospect after he was stepped on at the age of 3 days and survived a broken leg plated with steel and screws. James & Gini bred Chance to their mares which produced Chance of Freedom and started Chance on his great endurance career. He was ridden to his National Champion Junior LD win by 10 yr. old Lily Turaski and Chance currently has 1,945 career miles. What a wonderful accomplishment.

2013 AERC National Pioneer Award
Champion - Lt. Wt.

BELESEMA KHANDY KHISS - (Belesemo Ibn Trad x Abra Kha Dabra)
Owner/Rider – Carey Brock

1st – Ltwt. Pioneer Award
6th – West Region Lt.wt. Division

Our heartiest congratulations to this wonderful pair who once again secured the National Pioneer Leight Weight Award for a second year in a row. They were also 6th in the West Region with limited ride attendance this year. There are not enough words to describe the outstanding job this pair does in representing Belesemo bloodlines. They now have over 3,000 AERC miles. Look through our website to find their play by play ride action videos.
Congratulations also to the following on your 2013 National Placing's:




BELESEMO FIRE FLAME
Owner/Rider – Corey Clinton

2nd – SW Region Fthwt. Pts.
8th – Fthwt. Pioneer Award

BELESEMO RESEMBLANCE
Owner/Rider – A.D. Williams

2nd – SW Region Hvywt.
---
2013 AERC National Championship Ride

Heartiest congratulations to Chris Samson on Belesema Anna and Flora Goertsh riding Belesema Finalia for completing the AERC National Championship 50 mile endurance ride. For both of these horse and rider teams, it was only their second year of 50 mile endurance competitions together. We are very proud of their fantastic record and look forward to hearing of more competitions in the future. What a fantastic accomplishment!




Belesema Finalia & Flora Goertsch

Belesema Anna & Chris Samson
---
2013 Owyhee Harvest Moon Ride

At the Owyhee Harvest moon ride held in October at Bruneau, Idaho, Belesemo Arabians was well represented by Belesema Khandy Khiss (sired by Belesemo IBN Trad) owned by Carey Brock from California, Belesemo Enchanter (sired by Belesemo Magic) owned by Amanda Washington, and Belesema Star Ebony (sired by Belesemo Obsidian) ridden by Linda Walberg. Congratulations to all of you on your placing's and fantastic finishes.

Belesemo Enchanter and Amanda Washington

Belesema Khandy Khiss and Carey Brock

Star Ebony and Linda Walberg
---
2013 City of Rocks Ride

At the recent City of Rocks ride held in Almo Idaho, four Belesemo Arabian horses were represented. They were Belesemo Moon (sired by Belesemo IBN Trad) owner Lynn White, Belesema Finalia (sired by Belesemo Trad) ridden by Flora Goertsh, Belesema Specialty (sired by Belesemo Reflkshn) owned by Cynthia Peticolas, and Belesema Anna (sired by Belesemo Image) owned by Chris Samson. Congratulations to you all on your great finishes.

Belesemo Moon and Lynn White

Belesema Finalia and Flora Goertch

Belesema Anna and Chris Samson
---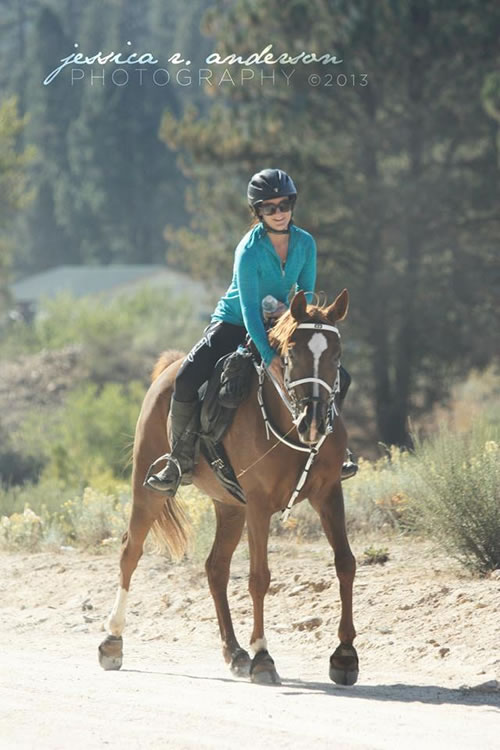 Enchanter ridden by Amanda Washington
2013 Old Selam Ride
Current Ride News comes to us regarding the Old Selam ride held in Idaho City, Idaho, the first weekend in September. Five Belesemo line horses competed in this ride and we are excited to list them here:
Belesema Anna - owned / ridden by Chris Sampson
Belesemo Enchanter - owned / ridden by Amanda Washington
Belesemo Moon - owned/ ridden by Lynn White
Belesema Finalia - ridden by Flora Goertsch
Belesema Ebony - ridden by Linda Wahlberg
Congratulations to all of you on your great placing's! We are looking forward to hearing of many more upcoming rides for this great group of young horses and riders
---
Nampa Stampede Parade

Fun activities that Belesemo Arabians participated in this summer included the Nampa Stampede Parade, the largest all equine parade in the Northwest. Shown here are Belesema Musical, Belesema Velveteen, Belesema Crystal Rose, and Sage Tycilan competition in native costume. All of these mares are former endurance horses, proving their Arabian versatility. They received first, second, and third place in the costume division, just out having fun. They were ridden by ranch volunteers Emma Gruver, Carrie Gruver, and Addy Gruver. Thanks girls for your special help this summer.
---



CMR Myza &TiffanyTarbet

Older brood mares at Belesemo Arabians go on to new careers introducing the next generation to the wonderful world of horses. Shown here is CMR Myza and Tiffany Tarbet new found companions. After going 1665 AERC miles, 26 completions of 26 rides, Myza become a brood mare for Belesemo Arabians, producing many fine endurance horses. At the age of 26, her new career is teaching a new horse family about the ins and outs of caring for horses. Our thanks to the Tarbet family for sending us this photo of Tiffany and Myza beginning their new relationship together. Myza is the perfect "older lady" to teach the next generation. What a special mare and young girl. We look forward to continue updates.

We were sent a recent photo of CMR Myza and Tiffany Tarbet shown here (photo on right) celebrating Veterans Day
---
Belesema Maid Marian

Caroline Williams and husband Bob from British Columbia, the owners of Belesema Maid Marian report the following recent news:

Shown here are "Emmy" and Bob at the AERC sanctioned Titanium Run 3-day last weekend. They did LD on Days 1 & 3 and volunteered Day 2. Emmy just follows along after Bliss like a trooper. A big bear ran out on trail in front of us to add to the excitement. They received 1st place and the best condition award. Ride photos to follow.
---
TEVIS Cup Results
News from Auburn, California, has three Sanskrit offspring completing the TEVIS Cup. Congratulations to their fine owners and riders and Sanskrit's former owners Dee and Victor Matlock. What a fantastic accomplishment for one stallion in the toughest endurance in the country.

Bailie Skrit Ablaze, a half-arab owned by Pam Bailie - 24th
NEH Sansational Shai owned by the Blakely's in Oregon - 44th
Sharade Le Fey owned by Kim Zvik - 47th
We hope to have photos forthcoming shortly.
---
Broadview University Vet Tech Program
Students from Broadview University once again visited the ranch this summer as part of their field study for their Vet Tech program. They were fortunate to view an actual foaling at the ranch which was detailed in an article on-line for the university's web site.
30 year old Belesemo Magic being a "patient" blood draw
for a young student

Sanskrit daughter Spice, presenting her new Belesemo Ibn Trad filly to the class of students
We were pleased to welcome Dr. Kara Cockrum, DVM, and her vet tech students from our local Broadview University to the ranch in November for a hands on horse experience day for students enrolled in their veterinary technician program. The students spent the day practicing administering shots, pulling blood for tests to be run, wrapping "injured" legs, proper restraint and handling of foals, and other duties necessary for their chosen occupation. It was a very educational day for students and staff alike.
Coincidently, Dr. Cockrum worked at Belesemo Arabian Ranch in her teenage years as one of our original helpers. Its wonderful to see the culmination of her chosen career as a veterinarian and now as a teaching professor a the university.
---
Belesemo Iron Man
(Belesemo Magic x Princess Tiniya)

News from Julie Gelderman of Poulsbo, Washington, owner of Sandamar Farms has Belesemo Iron Man (a.k.a. Tony) winning his first Sport Horse In-Hand class at the Donida Horse Show with a high score of 79 points. We expect to see more of this fine yearling at future sport horse shows.
---
Belated News

Firecreek Farwa
(Overlook Farwa x Firelight TF )
We've just learned that Fire Creek Farwa (Overlook Farwa x ) has obtained National Champion Reining from the 2012 Nationals. Achieving National Top ten status at the Canadian Nationals in Arabian Reining and Arabian Reining Horse AAOTR 40 and over. He was also Reserve Champion at the Region 10 Championship Show in three different divisions. This stallion is living up to the legacy of his Reserve National Champion Cutting Sire, Overlook Farwa. Our heartiest congratulations to his his fine owner / breeder Laurel Reeves of Milltown, Wisconsin. Laurel has done a magnificent job with Farwa.
This makes Overlook Farwa the 5th stallion at Belesemo Arabians having sired National Champion horses in the show ring or on the trail. Farwa joins Belesemo Trad, Belesemo Epic+++/ , Belesemo Ibn Trad, and Sanskrit as siring National winning offspring.
---
Belesemo RC Magic
(Belesemo Magic x Madafa)
Can you say versatility? The ultimate in using horse, shown here is the fine young stallion, Belesemo RC Magic with owner Carey Brock. Magic is the epitome of the Arabian stallion that does it all and Carey his dedicated servant. You name it, they are doing it as demonstrated here. The consummate 50 miler, search and rescue horse, and cutting cows - they do it all. Thanks to Carey for giving him such a wonderful opportunity to live up to his heritage. We look forward to more story book adventures.
© www.lynneglazer.com

50 mile Endurance Horse

Search & Rescue

Cattle Penning

QH Conformation Shot!

Just Showing Off!

[ Place mouse over to enlarge image]